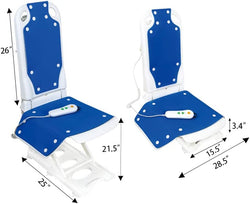 MAIDeSITe Electric Chair Lift | Get Up from Floor | Floor Lift | Can be Raised to 20" Help You Stand Up Again | Weight Limit 300 LBS | Item Weight 30 LBS
✅ The chair weighs 29 pounds. The lightweight and sturdy electric chair lift with high-strength supporting steel rod material has a weight capacity of 300lb. We provide a returnable service. For non-quality issues, the chair can be returned for a full refund, so you can rest assured to try it.

✅ MATERIAL:We use high-strength steel rods as the support frame of the bathroom lift, which is more stable, and the equipped seat cushions are more conducive to cleaning, making you safer and more comfortable to use.

✅ Foldable Side Wings: There are two foldable side wings designed to move easily from the ground to the lift chair.

✅ Electric Lifting: No power supply required. The chair lift is equipped with rechargeable batteries. It can adapt to the requirements of most environments, please pay attention to charging the battery.

✅ Fully Waterproof Electric Lift Chair : We adopt IPX8 waterproof standard. Our chair lift can work normally even in the bathtub, and there are 6 suction cups to improve the stability of the electric chair lift.