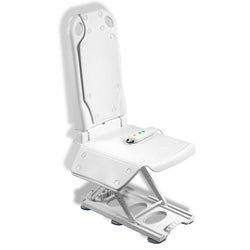 Maidesite Electric Reclining Bath Lift Chair, Collapsible Reclining Bath Lift, Quiet Bathtub Lifts, Bathroom Tub Chair, Six Suction Cup Feet, Emergency Stop Button, Weight Capacity 308lb, White
Weight Capacity: 

The electric bath lift chair weighs 29 pounds. The lightweight and sturdy electric chair lift with high-strength supporting steel rod material has a weight capacity of 308lbs.




Convenient to Operate:

 

Maidesite reclining bath lift adopt the simplest operation design, only need to control two buttons to make the bathtub lifter work normally to raise 18 inches or tilt 45°. You can use the emergency stop button to stop it immediately at any time. The bath lift adopts a more humane portable method, which is more convenient when moving. With easy access to the bathtub.




High Quality Material: 

We use high-strength steel rods as the support frame of the bathroom lift, which is more stable, and the equipped seat cushions are more conducive to cleaning, making you safer and more comfortable to use.




Safety: 

The bathtub lifter is equipped with 6 suction cup bases to be more firmly connected to the bottom of the bathtub, which is more reliable and prevents accidental movement. You can have a safer bathing experience. At the same time, we use IPX8 waterproof design, It can work stably in water for more than 1 hour. In addition, we have additionally provided new non-slip mats that can be used in bathrooms or bathtubs.




Scenes: 

The specifications of the bathtub is fully considered during the design process, so the lift can be easily positioned in any standard bathtub. When lowered, the seat height is 3.4", the width of the wing opened is 28.5", and the width of the wing folded is 16".




Foldable Side Wings:

 

There are two foldable side wings designed to move easily from the ground to the lift chair.




Electric Lifting:

 

No power supply required. The chair lift is equipped with rechargeable batteries. It can adapt to the requirements of most environments, please pay attention to charging the battery.